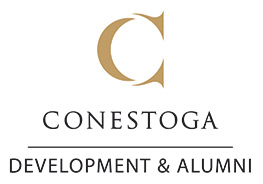 Welcome Conestoga Alumni
Conestoga Development and Alumni is delighted to introduce a new program to help Conestoga alumni save money on their mortgages. Advent Mortgage Services is among the highest volume mortgage brokers in Canada so they can negotiate low mortgage rates, most often lower than you can get on your own and usually with the same banks you go to every day. Advent works for you, not the lenders, so their advice is based on your needs alone. And their service is FREE!


Exclusive Discount for Conestoga alumni

Advent will reduce the best rate they can negotiate by a further .05% for Conestoga alumni. That's enough to save another $672 in interest on a typical $450,000 5-year mortgage over and above the savings from the low rates Advent can provide.
Current Mortgage Rates (subject to change. some conditions apply. call for details)

| | | |
| --- | --- | --- |
| | Low Rate | Conestoga Rate |
| 2 year Closed | 2.34% | 2.29% |
| 5 year Closed | 2.59% | 2.39% |
| 5 year Variable | 1.95% | 1.90% |

Why work with Advent?

Advent essentially shops the lending marketplace on your behalf. In the time it might take you to arrange a single appointment, Advent will identify the lenders that can meet your needs and negotiate the best possible rates. Advent works with more than 40 lenders including many of Canada's Big Banks, lenders that work only with brokers and others that specialize in meeting the unique needs of home owners with bruised credit.

How much can you save?

A 2013 survey by Mortgage Professional Canada found that every one of 2,100 respondents received a discount to lenders' posted 5-year rates but the amount of the discount varied by up to 1%. The difference between a 3.75% rate and a 2.75% rate on a typical $450,000 mortgage is a whopping $13,271 in interest over a 5-year term. Advent's consistently gets lenders' biggest discounts and because their business is important to lenders, they get good service which means you do too.
Service you can depend on, advice you can trust, lenders you know.
Mortgage renewal, refinancing or your first home, Advent can help you save money!
Service is FREE to Conestoga Alumni. No obligation consultations.
CALL Jim Tourloukis, MBA, President & Principal Broker: 416-721-2063
FSCO #10149
Email: jimt@adventmortgage.ca
Website: www.adventmortgage.ca/centennial
Advent accesses more than 40 lenders including many of the Big 6 Canadian Chartered Banks and lenders that specialize in meeting unique needs. This ensures that Advent can provide a mortgage solution for virtually every home owner.